Frequently Asked Questions
Who is behind Our Farming Journey?
---
We are Rach and Jake, a young family of first generation farmers chasing our dream of setting up our own farming business with our 2 little girls. We started to share our journey on Facebook and we have built an awesome community there. This inspired us to go even further and create a membership site specifically for first generation farmers to support and guide them in their own farming journey.
---
What is Our Farming Journey?
---
Our Farming Journey is a Membership site. You pay a one off fee of £99 to gain life time access to our 'starter pack' specifically for first generation farmers where you can learn from leading industry experts and professionals within the sector, through videos, recources, helpful links, perks and more. You can also follow us a little more in our own farming journey as first generation farmers, as well as catching up with other first gens who are now farming in their own right. Join the herd today!
---
What is included in my Subscription?
---
For a one off payment of £99, you will get life time access to: - Videos, podcasts, articles & resources from Industry Experts. - First gen Farmers share their success stories. - An insight into life here at Our Farming Journey. - Membership directory where you can direct message fellow members to chat and connect. - Up to date market reports. - Latest Tenancy opportunities from across the Country. - New job vacancy links. - Templates for Tenders, Business Plans and more. - Contact details of leading Industry Experts. - 10% discount Tenant Farmers Association Annual Subscription. - 10% discount with Farm Agents Symonds and Sampson. - 10% discount for Tender Applicarions with Greenslade Taylor Hunt - 25% discount for E-learning Courses with Precision Grazing.
---
Who can I contact if I have any questions?
---
Rach AKA Mrs Farmer is your point of contact so please feel free to ping me over an email if you have any questions - rachel@ourfarmingjourney.com Or find me in our Members directory under 'Mrs Farmer' where you can message me directly and I'll get back to you as soon as I can.
---
How do I sign up to become a Member?
---
Apologies! Our sign-up system is a little clunky at the moment. We are working hard with our website provider, Wix to rectify this. If you are struggling to sign-up, please follow the instructions below, or watch our walkthrough video. How to Create a Member Account
To gain access to the member's section of the site, you must first create an account (You may be asked to verify your email address).
Next click 'Check Plans' and select a price plan that suits you.
You will then be taken to the payment page. Add your payment details and boom! You are part of the herd!
The member pages will now unlock and you'll be able to view all our awesome first-gen content!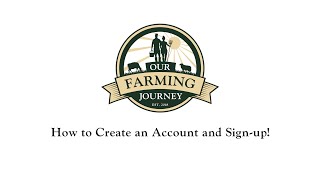 ​
---
Is Our Farming Journey just for residents of the UK only?
---
Yes, primarily. Whilst anyone is welcome to join Our Farming Journey, please note the guidance given from oursleves and all of our contributors is soley based around the UK Agricultural sector. We therefore cannot specify whether this guidance is relevant to any other country outside of the UK.
---
---